A JS READER IS HERE!

James Schwartz marks his official literary debut with the poetry chapbook A James Schwartz Reader, the acclaimed anthology collecting the best of his early poetry.
Includes the poems I am a Vessel like a Ship, Seven Smiles, Love Has Rules as well as a newly written Introduction and a tribute to April Hoskins.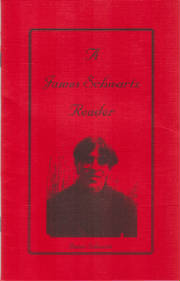 To order a copy of A JAMES SCHWARTZ READER call 1 269 273 READ

ON SALE THROUGH THE OFFICIAL JS GALLERY!
FOR A LIMITED TIME ONLY FIVE DOLLARS!!!!!!!!!!!!(includes shipping & handling).
----------------------------------------------------------------------------
A James Schwartz Reader, the official literary debut from indie poet/writer James Schwartz collects the best of his early poems (written in his late teens/early twenties) including his classic poems In A Summer Wood, Seven Smiles, Cabaret Days and B.C/A.D. Also included are several new poems, notably the Kabbalah poem I Am A Vessel Like A Ship and the Deep South love ode The Bay.
--- The James Schwartz Gallery